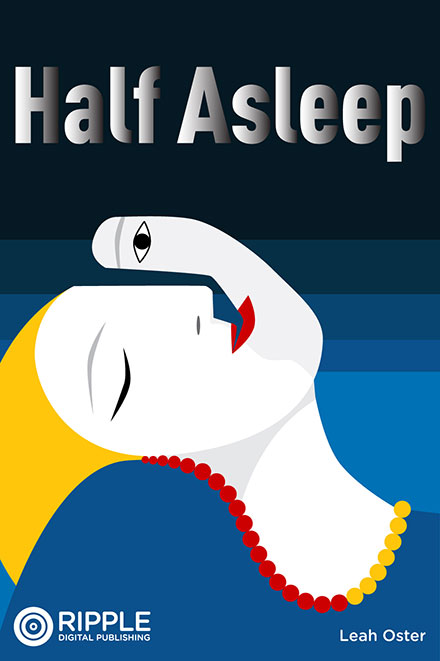 Written by Leah Oster
Leah Oster tells us a story about where dreams come from, and where they go when we wake up. Two unlikely companions, Maria and Cordelia, both have complicated family histories, and troubles in their day-to-day lives. But it takes an incredible trip to the world of dreams for them to discover what they have in common, and forge a true friendship.
» Download from Apple iBookstore
» Download from Amazon Kindle
» Download from Kobo
Now available in print format at Amazon
About the Author
Leah is a grade six student at Southview Public School in Napanee, Ontario. She has always been an avid reader and writer, and often shares tidbits of ideas for stories with us that are floating around in her head…."Half Asleep" originated in a conversation that Leah and her nine year-old sister Maddy were having about weird dreams they had had, and just sort of developed as she began writing. Leah enjoys lots of extra curricular activities in addition to reading and writing, including long distance running, swimming, horseback riding and highland dancing. She also belongs to club that she and her friends started called "Fruit Punch" that does fundraising for a variety of charities. They have been particularly big supporters of our local S.P.C.A. (Society of Prevention of Cruelty to Animals) Leah's future aspirations currently include being a teacher or a doctor, and she sees herself working in a developing nation and writing about her experiences there.
About Kids Write 4 Kids
Ripple Digital Publishing started its annual Kids Write 4 Kids creative challenge to encourage kids to read and write. Our sense of self, creativity and ambition grow from the support we had during our youth. By providing youth with opportunities to share their stories, we hope to help build a generation of adults that love to read and write.
Kids Write 4 Kids is a non profit program by Ripple Foundation. Net proceeds are donated annually to different charities and schools. Ebooks are available to download at Apple iBookstore, Amazon Kindle's Kindle and Kobo eBooks. Printed version can be purchased at Amazon Bookstore.
» View Kids Write 4 Kids book collection
» Watch Meet the Author videos