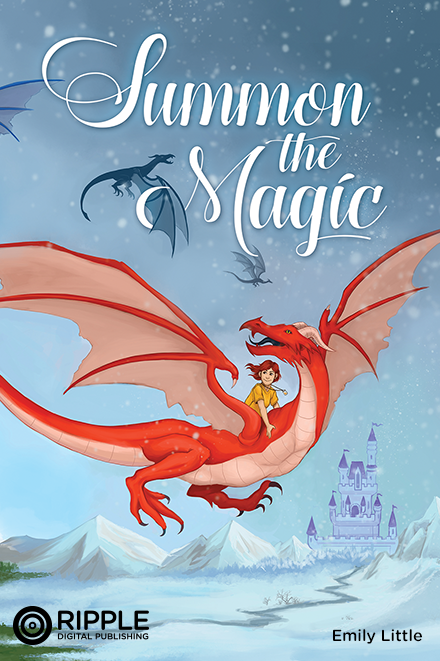 Written by Emily Little
Cover illustration by Rebecca Greenfield
About the Author
Emily Little is a grade 6 student at Northport Elementary School in Port Elgin, Ontario. She has always loved to read and write. Emily loves the feeling of being sucked into another world while reading. In grade 3, she was at home making a craft out of glitter and a small glass bottle. Her finished craft inspired the idea for her book, Summon the Magic! The idea has changed a lot since then; the characters and setting developed to be what they are in this book. Emily really enjoys reading fantasy and adventure books, especially when they include dragons! Emily lives at home with her parents, her brother, and her three cats (however, she doesn't have a dragon of her own…yet!). Emily encourages people to continue writing if they truly love it. She hopes whoever dreams a dream will follow it through and make it a reality. You will never know unless you try!
Emily was featured in her local paper Shoreline Beacon.
» Watch Emily's Meet the Authors video
About the Illustrator
Rebecca Greenfield, otherwise known as Gorefield Illustration is a 2017 graduate student from Ontario Collage of Art and Design University in Toronto. To view more of her work, visit her website artofgorefield.com
About Kids Write 4 Kids
Ripple Digital Publishing started its annual Kids Write 4 Kids creative challenge to encourage kids to read and write. Our sense of self, creativity and ambition grow from the support we had during our youth. By providing youth with opportunities to share their stories, we hope to help build a generation of adults that love to read and write.
Kids Write 4 Kids is a non profit program by Ripple Foundation. Net proceeds are donated annually to different charities and schools. Ebooks are available to download at Apple iBookstore, Amazon Kindle's Kindle and Kobo eBooks. Printed version can be purchased at Amazon Bookstore.
» View Kids Write 4 Kids book collection
» Watch Meet the Author videos