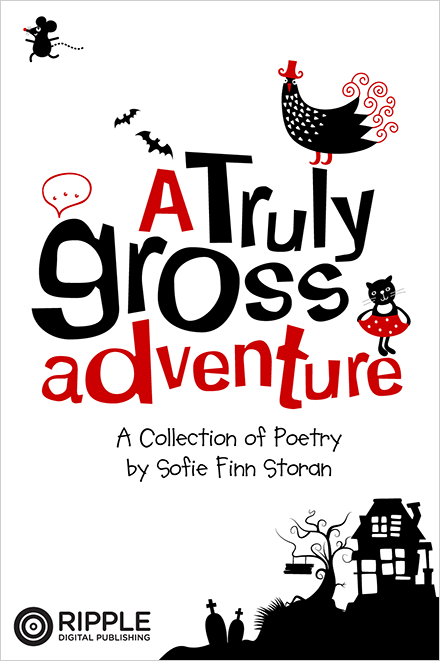 Written by Sofie Finn Storan
A Truly Gross Adventure is a collection of nonsense poetry in the tradition of Edward Lear, Dennis Lee & Jack Prelutsky. Sofie Finn Storan's whimsical verses are filled with circus-performing cats, ghosts, ghouls, and the even more frightening things found at the back of a fridge.
» Download from Apple iBookstore
» Download from Amazon Kindle
» Download from Kobo
Now available in print format at Amazon
About the Author
Sofie Finn Storan is ten years old. She lives in Victoria, British Columbia. Her inspirations include her cats Woody Allen and Babbo, Jack Prelutsky and a certain Mary Lue Emmerson (her school librarian). Sofie is a voracious reader and has a love of words and language. She hopes to continue writing poetry and possibly to publish a novel. Sofie wishes to dedicate this book to her cats, Ella Rosenberg, and Elliot Smith. She hopes you will enjoy her poetry!
About Kids Write 4 Kids
Ripple Digital Publishing started its annual Kids Write 4 Kids creative challenge to encourage kids to read and write. Our sense of self, creativity and ambition grow from the support we had during our youth. By providing youth with opportunities to share their stories, we hope to help build a generation of adults that love to read and write.
Kids Write 4 Kids is a non profit program by Ripple Foundation. Net proceeds are donated annually to different charities and schools. Ebooks are available to download at Apple iBookstore, Amazon Kindle's Kindle and Kobo eBooks. Printed version can be purchased at Amazon Bookstore.
» View Kids Write 4 Kids book collection
» Watch Meet the Author videos